Farming simulator 17 JOHN DEERE GATOR HPX DIESEL – LAMBOEDIT v1.1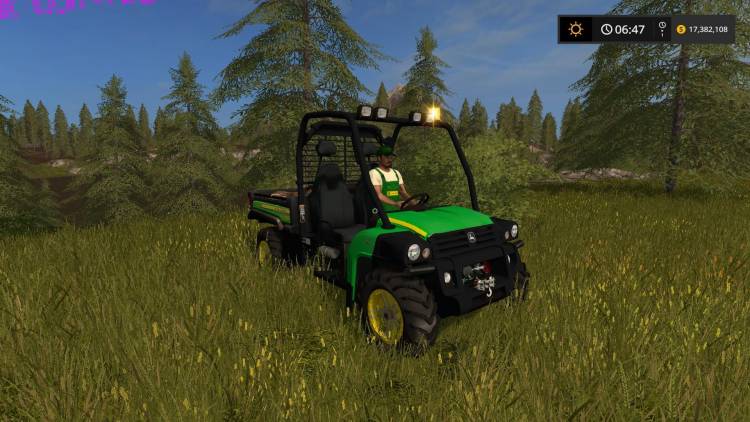 I made quite a few videos while editing this mod. Please take the time and watch them if you are interested how It was created. Special thanks to Ben Krempa (Richwoodrocket) for fs15to fs17 conversion.
-Updated Engine
basic
Tuned
Beast Mode
Upgraded capacity
500L to 10000L
added wight to tires to stabilize turning
Fix center mass
Cameras
So there is a ghost in the outdoor camera, I tried everything I could… Feel free. When you go below the gator the camera gets stuck under it. Have to repurchase to fix. So I made back ups…
So I installed 4 other cameras to compensate for this ghost.
top Camera
indoor
Side
rear
Snow Plow
Yes you can plow with it now.
Future upgrades — Crawler– released soon!
Engine upgrade:
Camera testing
Center Mass Fix and Test
FINAL TEST!
Credds:
Amarlich, Richwoodrocket (Convert to FS 17, add new sounds) LAMBO (workable in game and all extras)
HOME:
http://farmingsimulator17mod.wordpress.com
Forums:
http://lambomods.mistforums.com/
Donate:
https://www.paypal.me/lambomods
Facebook:
https://www.facebook.com/lambomods/
Patreon: Many mods that will never be released.
https://www.patreon.com/lambomods
Authors:
Amarlich, Richwoodrocket (Convert to FS 17, add new sounds) LAMBO (workable in game and all extras)